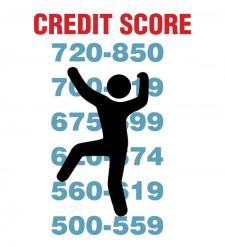 One in three U.S. adults is currently believed to be negatively affected by poor credit.
GLEN ELLYN, Ill., October 10, 2018 (Newswire.com) - Upwards of 30 percent of adults in the U.S. are currently understood to be affected by poor credit, according to recent figures released by consumer credit reporting agency Experian. As a result, mortgage loan officers such as Daniel Yelovich routinely witness individuals and families failing in their dreams of property investment and other credit-dependent ventures.
It's with this firmly in mind that Yelovich, a father of two from Glen Ellyn, Illinois, is keen to emphasize the importance of building and maintaining a good credit score. "Addressing credit concerns should be a top priority for everyone, but especially those looking to purchase a property, particularly where income or down payment may be limited," he explains. "Poor credit has been a problem in the U.S. for many years but, thankfully, there's plenty which can be done about it."
Yelovich goes on to explain that whether someone is buying their first home or investing in their 10th property where a loan is required to make the purchase, any reputable lender will look closely at income, down payment and — as is pertinent here — credit history.
For those concerned about their credit, or looking to improve their score, Yelovich recommends starting by requesting copies of credit reports. If there's a mistake on a report, the mortgage loan officer stresses that it's imperative to have this rectified as quickly as possible.
Potential home buyers or anyone looking to repair their credit score can contact their creditors directly or send a letter of dispute to the relevant credit bureau in order to have inaccuracies corrected, Yelovich reveals. "A creditor or credit bureau then has 30 days to investigate your claim and make any necessary amendments," he adds.
Repairing justified, current poor credit, rather than rectifying mistakes, is often a more involved process and should be discussed with the relevant creditors or credit agencies directly, suggests Yelovich.
Once these areas have been addressed, Yelovich highlights the additional importance of maintaining a good credit score moving forward. To facilitate this, he advises paying any past-due bills, staying current with future payments and always paying bills within 30 days of their due date to prevent an overdue flag.
Furthermore, payment plans should be established where necessary, as consistent, on-time payments are pivotal. Similarly, credit card balances should be kept below 50 percent of their limit as maxed out cards will invariably lead to a lower credit score.
Next, he says, avoid opening unnecessary new credit accounts, as frequent new credit inquiries also negatively affect overall scores.
"Call your creditors if you're likely to have a problem paying any of your bills on time, too," he adds, "and think twice about closing old accounts, even once they're paid off."
Of his last point, Yelovich clarifies that, in general, having credit cards and installment loans, while making timely payments or maintaining a zero balance, will actually improve or strengthen credit scores. "Someone with no credit cards, for example," he explains, "tends to be a higher risk than someone who has managed their credit cards responsibly in the past."
Finally, says Yelovich, establish good new credit wherever necessary or possible – but never unnecessarily. "Do this," he suggests, wrapping up, "and you'll be well on your way to a better credit score and a lifetime of future financial security."
Source: Web Presence LLC
Share: