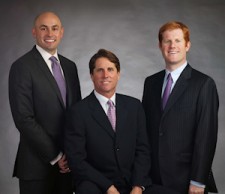 Fortifying a family's personal insurance cover is vital, says Joseph Gendelman.
PALM BEACH, Fla., October 17, 2018 (Newswire.com) - Today's affluent individuals have very different insurance needs even compared to just a decade or so ago. Changes in the economy and global landscapes have delivered a new perspective, according to Joseph Gendelman, CEO of the Bruce Gendelman Insurance Services, he explains that today, many wealthy individuals share concerns which go beyond physical risks, and are keen to do everything possible to safeguard and protect both their families and their fortunes.
"When looking at significant insurable value, a blanket insurance policy option may be recommended," Gendelman suggests, with benefits including flexibility in underwriting and services, and ease of administration. Furthermore, a so-called 'blanket' approach allows families to tailor special limits for coverage types which are often more challenging to obtain individually. These, says Gendelman, include flood and earthquake insurance, as well as cover for fine art, jewelry, and wine.
Bruce Gendelman goes on to explain that a family blanket policy replaces the typical insurance practice of separate policies, with its built-in fixed coverage and fees, whereby each family member and their needs are covered by individual insurance solutions. "By opting for blanket coverage, a consistent level of protection is afforded to the whole family," he adds, also highlighting the aforementioned flexibility on offer and ease of administration and fee transparency which come as a result of choosing blanket coverage.
"By replacing individual policies," Gendelman further explains, "this blanket approach reduces the potential for gaps in coverage, wherein which one or more family members could be left vulnerable to uninsured losses from assorted perils."
According to the company CEO, "it's vital for today's modern families, especially those with considerable wealth, to have best-in-class protection which meets all of their insurance needs. I am very confident that our dedication to client risk management as implemented by our national talented staff will be like a breath of fresh air to very sophisticated families.
"Today, protection, as manuscripted by our technical insurance experts will minimize potential loss or property damage, and which is designed to bolster a family's safety, is available as one blanket package, at a lower premium" adds Gendelman. "Our program will perfectly be tailored to a family's individual assets and lifestyles which represents an insurance solution which is absolutely second to none."
For more than 36 years, the sole focus of Bruce Gendelman Insurance Services has been helping individuals, families, their organizations, to protect their wealth. Based on this experience, Bruce Gendelman's highly-educated team understands the importance of developing risk management strategies which will be excellent long-term programs  in both hard and soft insurance markets.
As a privately owned and operated company, Bruce Gendelman Insurance Services provides clients with stability, and sophisticated risk management advice, uncompromised by the demands of a public company or venture capital-backed firms.
Bruce Gendelman and his team's personal approach is distinctive and backed by a thorough knowledge of the ultra-high-net-worth insurance market as evidenced by its national long-term leadership. Furthermore, the company's carrier partners utilize their own management teams in order to provide valuable advice on loss prevention services, on exposures, and on mitigating claims, together offering among the very best experience and advice available anywhere in the personal insurance world.
To learn more about Bruce Gendelman Insurance Services and the benefits of blanket family insurance policies, please call CEO Joseph Gendelman 800-845-4145 ext 13.
Source: Bruce Gendelman Insurance Services
Share: